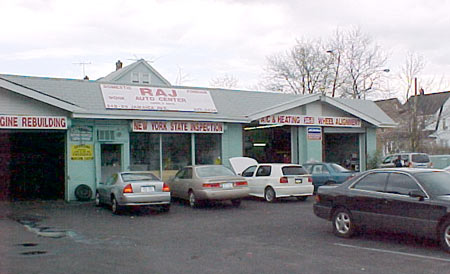 Our Auto center is located on Jamica Ave - on the border of Long Island. Our fully staffed center is 4 car service gates will offer you fast and reliable service so you dont have to wait on line for hours. We will do the job and have your car ready within a reasonable time and price. We use high quality parts on all vehicles so you dont have trouble within a few months after the service. Our staff will make sure your car is in good hands while it is at Raj Auto Center. We are expanding our services and our countless customers will telly you our reputation is an excellent one in the area. We also have Raj Towing services If your car is stuck on the road. If your with Raj Auto Center your in good hands.
Customer Satisfaction :
Our goal at Raj Auto Center is to develop a partnership with our customers to keep their vehicles safe and dependable. Trusting a repair facility with your automotive needs is no small matter. We do everything within our control to build and earn that trust every day, and have been doing it since 1990's. You owe yourself the pleasure of experiencing automotive repair with us. You will be greeted by courteous and friendly people and receive personalized treatment that only a facility with the years of tradition behind it can offer. Only the repairs and service needed by your vehicle are done at our shop. We try to save you money buy solving a minor problem you have without having to do costly repairs on your vehicle.
Our Code of Ethics :
To recommend corrective and maintenance services, explaining to the customer which of these are required to correct existing problems and which are for preventative maintenance.
To offer the customer a price estimate for work to be performed.
To furnish or post copies of any warranties covering parts or services.
To obtain prior authorization for all work done, in writing, or by other means satisfactory to the customer.
To notify the customer if appointments or completion promises can not be kept.
To maintain customer service records for one year more more.
To exercise reasonable care for the customer's property while in our possession.
To maintain a system for fair settlement of customer's complaints.
To uphold the high standards of our profession and always seek to correct any and all abuses within the automotive industry.
To uphold the integrity of all members of the Automotive Service Association
To perform high quality repair and service at a fair and just price.
To use only proven merchandise of high quality distributed by reputable firms.
To employ the best skilled technicians obtainable.
To furnish an itemized invoice for parts and services which clearly identifies any used or remanufactured parts. Replaced parts may be inspected upon request.
To have a sense of personal obligation to each individual customer.
To promote good will between motorists and members of the Automotive Service Association.

[ HOME PAGE | ABOUT US | SERVICES | GALLERY | CONTACT | LOCATION ]